Our Story
Banagher Precast Concrete have been to the forefront of precast since 1949, always striving to design, innovate & improve without compromising quality, our aim is to retain our position as the leading precast manufacturer in Ireland & the UK. Our history is a long but interesting one.
1949 Banagher Tiles Ltd
Banagher Tiles Ltd was established in 1949 by the Kenny family in Banagher, Co Offaly – manufacturing precast concrete roof tiles as an alternative to the traditional slate and clay tiles. From the beginning it was a company which embraced engineering and design, a company which sought out innovative solutions in true entrepreneurial fashion.
1965 Bantile Ltd
In 1965 James Kenny's son Kieran established Bantile Ltd, Bantile pioneered the manufacturing of precast concrete units for system building. All over Ireland schools, hospitals, club houses and buildings were erected using the Bantile system. Columns, supports, floors and walls were all precast by Bantile offsite and then efficiently stitched together onsite.
1965 Concrete Structures Ltd
Kieran Kenny founded Concrete Structures Ltd Banagher, for the design and manufacture of precast concrete units, it was the first company in Ireland with facilities for the production of prestressed bridge beams. The company supplied contracts all over Ireland to civil engineering contracts while steadily expanding their precast product portfolio. Kieran's ideas in architecture and construction were closely followed, adapted and copied by others.
1976 Banagher Concrete Ltd
In 1973 oil prices quadrupled triggering a global recession and an inflation explosion, Bantile went into liquidation with the loss of 120 jobs with a major impact on the local community. Five former Bantile employees envisioned the opportunities and broad scope of precast concrete in the civil engineering sector, so together with a local businessman they pooled their redundancy cheques and savings to buy the existing factory and set up Banagher Concrete Ltd. The company continued to build their civil precast product portfolio and became the leading precast supplier to the civil engineering industry.
1996 Growth in Business Award
In 1996 Banagher Concrete won the Growth in Business Award in recognition of its 20 years outstanding success. Through innovation and entrepreneurship the company had increased its number of employees from 15 to 220 and had begun heavily exporting to the UK, in 1996 it was awarded the contract to build 30 bridges connecting the A1 with the M1 near Leeds. Many companies benefitted from the investment in infrastructure in the 1980's but Banagher Concrete excelled because they focused on client collaboration and innovation, developing a unique range of precast products for the construction industry.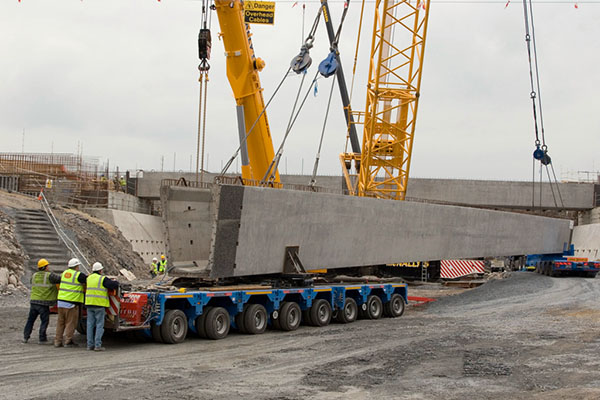 2005 W Beam Developed
Always moving forward and fostering a culture of innovation Banagher Concrete developed and manufactured the first prestressed W Beam, a beam which has become an industry norm in construction today. The development of the W Beam and the Super-W-Beam by the in-house design team was a leap forward in engineering, these beams have been designed to span up to 50 metres – the longest span of any precast beam on the market then or today. The W Beam is inherently stable and offers construction companies an economical, safe and efficient bridge beam choice.
2007 MY Beam Developed
Our in-house design team developed the first prestressed MY Beam as a more economical solution to the traditional 'Inverted T Beam' and 'TY Beam' for shorter spans up to 19 m. The Banagher Precast Concrete MY Beam provides a more efficient solution than traditional beams by reducing the amount of precast concrete required. The MY Beam is known in-house as our 'Green Beam' as it's a more environmentally friendly beam with a smaller carbon footprint than other beam types for similar spans.
2010 Banagher Precast Concrete Ltd
Up until 2008 the construction industry experienced unprecedented growth, Banagher Concrete employed almost 500 staff until the recession hit and crippled the construction industry. In 2010 once again five existing employees stepped up and Banagher Precast Concrete Ltd was established. This young team of Directors are still leading the company today and are building on the success of those gone before them, advocating as always innovation, value engineering and client collaboration. Today there are now over 270 people employed and the company is going from strength to strength.
2013 New UK Manufacturing Plant
By 2013 Banagher Precast Concrete were exporting vast amounts of precast to the UK so the natural progression was to set up a manufacturing plant in the UK to better facilitate the UK market. The facility in Brandon, Norfolk is ideally situated for transport links, it reduces carbon footprint associated with transport and provides additional storage space. The site is inspected every 6 months by the British Precast Association and specialises in high-volume projects.
2018 Building on Success
Every year Banagher Precast Concrete has been recognised for outstanding achievements and contributions to the construction industry by the Irish & British Concrete Associations for our innovations with precast and our ability to deliver largescale complex and often bespoke projects. Please take a look at our projects page to find out more about our award winning work.