Testimonials
What our clients say
Our clients are amongst the top construction and engineering companies in Ireland and the UK, we are proud to be working with the industries finest.
In this industry the complexity of a project can vary and often unforeseen obstacles arise, we pride ourselves on providing our clients with the support they need to overcome any obstacles.
Dave Cotter BE CEng MIEI HDip Mng & Mkt.
Regional Manager, John Sisk & Son
Project: Páirc Uí Chaoimh, 45,000 Seater Stadium
"John Sisk & Son have used Banagher Precast Concrete as their major precast supplier for many years on largescale projects in both Ireland and the UK including the Aviva Stadium, UCD Science building, the Curragh Racecourse, the award winning dlr Lexlcon library and Páirc Uí Chaoimh stadium, as well as on motorway infrastructure.
Banagher can be depended on to find solutions and to deliver to schedule, they are committed to exceeding expectations and go above and beyond to keep projects on track. Their extensive range of products and bespoke precast are of the highest standard and I would have no reservations in recommending them for any precast project.''
Isa Ribeiro
Project Manager, Galldris Construction Ltd.
Project: Tottenham Hale & Northumberland Park rail stations
"Banagher Precast Concrete is a very professional company to work with. We had precast front wall units made by Banagher that were installed at Tottenham Hale and Northumberland Park rail stations.
While visiting Banagher yard, it became clear the Quality Assurance system implemented during the precast manufacturing process is outstanding. The high quality of the precast supplied by Banagher is a reflection of this system.
During the visit it also became clear that the company is managed by people with the relevant technical knowledge which once again is reflected in the end product.
At Tottenham Hale station, the precast sections were inspected by Network Rail with the intention to pick one as a benchmark. It was great to see that one section was picked almost randomly given the general high standard of the units delivered."
Marc Daly
Head of Delivery, Careys Civil Engineering
Project: Rail Encapsulation, Royal Mint Gardens, London
"The various stakeholders including Network Rail, DLR, IJM Land, WSP and Banagher Precast Concrete worked extremely hard to complete this essential element of the project. The encapsulation has been designed to withstand train impact loads and is a testament to everyone involved. With very specific railway possessions and an extremely challenging delivery and installation site Banagher Precast Concrete ensured the fulfilment of the precast elements were delivered to site correct and on time."
Rients Jan Veldkamp, Agent Kier, Infrastructure & Overseas
Project: Berryfields Western Link Road, Buckinghamshire
"It has been a pleasure working with the professional and dedicated team at Banagher. They have been open and honest and provided us with a good service and end product and we will have no hesitation working with them again in the future"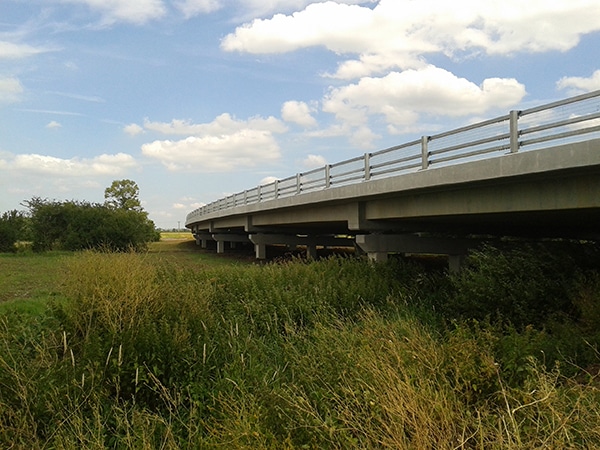 Chris Knowles BSc (Hons) EngTech MICE
Section Engineer, A14 Integrated Delivery Team
Project: A14
"The Banagher Precast Concrete team are very professional, friendly and approachable. From the first meeting onwards a strong relationship was built and has continued throughout the contract. Banagher have dealt excellently with the busy delivery schedule and furthermore were able to adapt quickly, amending deliveries even at short notice in line with site demands and weather issues.
The quality of the precast box culvert units has been excellent with zero defects found thus far and long may it continue. Banagher are very quick to respond to requests, the delivery of products was very reliable too and well communicated. Banagher continue to successfully deliver parallel to the commitments made."
Steven Hewick
Project Manager, CR Reynolds
Project: Seathorne Sea Defence
"Having worked with Banagher Precast Concrete on the Seathorne sea defence project on the east coast of England, constructing a 150-metre-long inter-locking precast concrete defence, they would always be recommended as a preferred contractor in the supply chain. Their expertise in the field of pre-constructed reinforced concrete products and their design teams, gave my team the confidence to believe we had awarded the right contractor for the project.
Furthermore, we were invited to view there casting facility in the UK as the first of our 96 units weighing 14 tonnes each were released from their moulds – the attention to detail and the demonstration of the precision casting in a controlled environment allowed the site to prepare the sub-bases ahead of the units been delivered, gaining a lead on the program. When the units arrived the installation process was rapid and the planned installation of 4 units per day soon increased to 6. The inter locking system was installed with ease and the risk elements usually involved in this type of civils were very much designed out with this system. A great project to deliver due to having the right supplier in the supply chain."
Dylan Broderick
Quality Manager, John Cradock Ltd
Projects: Sillogue Water Storage Facility & Kilkenny Central Access Scheme bridge
"John Cradock Ltd have dealt with Banagher Precast Concrete for over 30 years, including landmark projects such as Sillogue Water Storage Facility and Kilkenny Central Access Scheme. We trust and value the technical expertise that they provide both in terms of design, construction and installation. We work co-operatively with the team at Banagher Precast Concrete, which helps us to overcome any time, cost and quality challenges that we face. We have always found them excellent to deal with and fully expect our long standing relationship to continue"
Irish Concrete Society Awards 2017, National Infrastructure Category Winner
Project: Pairc Ui Chaoimh
Contractor: Sisk & Son
Engineer: Malachy Walsh & Partners
Jury Quote: "The vertical concrete elements & the excellent precast cladding panels captured the jury's attention. Row after row of precast concrete seating & terraces all completed to a high standard. This concrete tiered infrastructure is a worthy winner."
Irish Concrete Society Awards 2017, International Category Winner
Project: Encapsulation, Royal Mint Gardens London
Contractor: Careys
Engineer: WSP
Jury Quote: "The ambition demonstrated by this Irish company to complete the encapsulation of an existing busy rail line and free up the valuable airspace overhead for much needed inner city residential accommodation was impressive. The entrant provided a full comprehensive design as well as the logistical expertise to manufacture and deliver multiple precast concrete units to this busy inner city site. The structural design life of 120 years, the capacity to withstand a train impact and the innovative design approach undertaken together with the collaborative research into the seismic capability of invisible connections was also impressive."